Text and images © 2006 John B. Blackford. Do not reproduce without express written permission. All rights reserved.
Blogging Before Breakfast
Each morning, 100,000 new Web Logs appear on the world's doorstep. We don't know their purpose, but arrive they do...and yes, here's another. Mine grows from a love of photography on the Delaware River. I'll discuss photo gear, techniques, and news of the river...and share the fun of walking or floating, camera in hand, dog in tow. 4/1/06

Raub's Island, up close: Raubesville, Pa., is just north. Fry's Run is below the "Stouts Valley" label. During droughts, land joins Pa. to the N-W tip of Raub's Island.
The Delaware River below Easton, Pa. At Raubs Island, the river bends sharply west for a mile or so. (The river from Raub's Island to Old Sow Island is nearly due north.)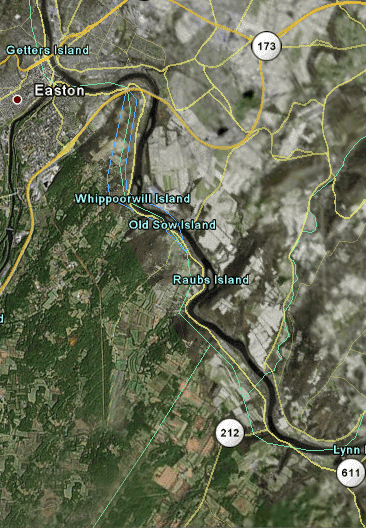 ____________________River Log______________________________________________________________________________